Southwick Park Project
Thanks to Mrs Mawson's class (4EM) who have agreed to be part of a project for this park to improve facilities for the benefit of our local children. There has been a lot of fly tipping , rubbish being dumped as well as lots of broken glass found. Dog fouling is a big problem too! Do you know this park? It's situated at the end of Southwick Rd, off Sale Rd. What do you think about the problems here?
10.6.16
Gavin Evans ( from the City Council's Neighbourhood Team )and Mrs Marrett talked to the children about the problem. They were all enthusiastic about helping!
17.6.16
Today the children began to make some posters that will go around the park. These hopefully will get the message across that it is unacceptable to dump rubbish, fly tip and not pick up after dogs. The class have been invited to go to the park on the 30th June to put their laminated posters up.
30.6.16
In the afternoon, class 4EM visited the park alongside Mrs Mawson, Mrs Marrett, Mrs Cooke and Ms Owen. At the park we met Gavin and Dianne from the Neighbourhood Team who involved us in a laying some wood bark in a specific area and hanging the posters that the children had made. We also did some litter picking. The children worked hard and the school should be proud of them. Why not visit the park and see some of the improvements.
Wildlife Project
The Eco Committee have been given a fantastic opportunity by MEEN (Manchester Environmental Education Network) to take part in a series of wildlife projects in school. They will investigate what lives in our school grounds and learn lots about different types of wildlife. Eventually the children will choose one animal or insect and learn how to pass knowledge on by becoming a 'teacher'. Thanks to Raichael Lock for delivering these sessions.
17.5.16
Today the children learned about lots of different birds, some they knew and some were unfamiliar. We went into the school grounds and looked to see if we could spot any. Not many around! How do you think we could attract birds to our school grounds?
24.5.16
In this session, the group went into the school grounds to investigate where hedgehogs might hibernate. We found lots of leaves and bushes next to the field that would be ideal but the hedgehogs might struggle to get into our school grounds with the type of fencing we have. How do you think we could help them?
7.6.16
Raichael talked to the children about the benefits to wildlife of leaving an area of grass to grow and not having it cut. Wild flowers can also flourish. So the group decided to fence of an area of grass off at the front of school. Check it out! Already buttercups are pushing through. Do you know the name of any other wild flowers?
14.6.16
Today the group discussed that water was an essential element for wildlife especially in dry weather. We came up with an idea of digging a bowl of water into the ground so we looked for a suitable site around school. A small wildlife pond would be an exciting feature in school...maybe for the future! What animals do you think would live there?
21.6.16
Today the children dug a hole near the meadow grass and placed 2 trays of water to make a mini pond. We also put some wild flowers and stones around the water. I wonder who will visit the mini pond? Birds? Hedgehogs?
28.6.16
Before we went outside, we discussed doing an assembly for the school on looking after our wildlife including hedgehogs. This week Raichael had brought some more wild flowers for our mini pond area. Some children went on a insect hunt.
Community Gardening Club
We meet every Tuesday at 2 - 2:50pm in term time. We are a small friendly group that like a chat and are learning as we go along to grow some veg! Fancy joining us? Just turn up at the office. All equipment provided.
17.5.16
Thanks to Darren for planting some potatoes in Reception garden. We hope they grow!
24.5.16
Thanks to some members of the gardening club and parents for making a start on the Nursery Garden so that the children will be able to sow seeds and learn how they grow.
14.6.16
The gardening members tidied up an area around the potting shed and planted some plants that had been donated.
10.6.16
Today Darren dug up the very hard ground in the polytunnel and planted some tomato plants. Anna and Naomi sowed some vegetable seeds and spare spaces in the raised beds. We have a lot of young lettuce and next week we have decided to invite anyone who wants a sample for their tea to come along to the gardening club. Its free!
Button Lane in Bloom
Have you noticed all the fantastic Spring flowers in and around our school?
What a difference it makes! The hard work of planting the bulbs with children, parents, carers and other family members has paid off! Thanks to everyone who helped.
A big thank you also to the 'Little Hands Project' and Wythenshawe in Bloom who donated the bulbs.
18.3.16
Don't be a fool, recycle at Button lane School - By Elleann Hindley in our recent Recycling competition.
Environment
We take great pride in our community and have enjoyed our community environment projects this year.
A big thank you to everyone who has supported community projects in and outside of school. You do make a difference!
Thanks to Kieran Jones, Community Champion at Tesco Baguley, who visited the gardening club and brought drinks and strawberries for the children.
Some beautiful herbs were donated to school from the 'Little Hands' project. Thanks to Phoenix Dale's dad for putting the raised beds together for them.
This week we held our 'design a poster competition' for the national campaign to clean up Britain ready for the Queen's 90th birthday. There is more information about the winners of the competition on the Enrichment page.
We will be holding some event nearer the time, including a litter pick around our school and local community. To see more about the event go to the Clean for the Queen page by clicking on the title above.
12.02.16
Potting Shed Project
With thanks to staff from Wythenshawe Community Housing Group (WCHG) our very tired and old looking garage has begun its transformation!
On Tuesday 21st September a team of volunteers and staff members began clearing out the old garage and giving it a new coat of paint. Take a look below at a few of the photographs.
This week we have had even more volunteers from WCHG continue the work to improve our potting shed! A BIG thank you to everyone who has helped.
01.10.15
Look what has appeared!
July 2015
All of our hard work is starting to pay off, look what we found in the courtyard this morning!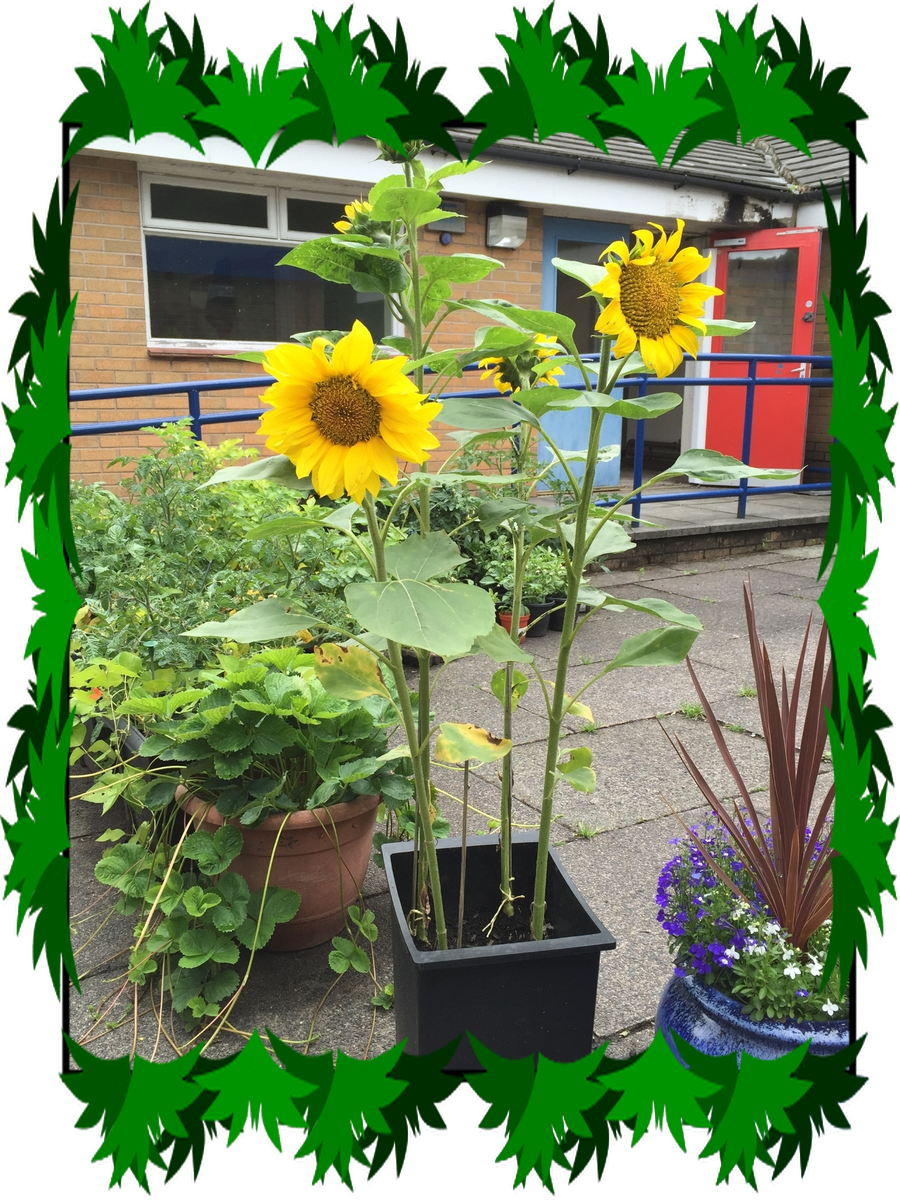 Community Gardening Club
Every Tuesday after school you could come along and join our community gardening club, open to Parents, Carers, friends & family. Meet at the Poly tunnel! In September, if you are interested in being part of a group that could meet at 2pm until 2.45, put your name down at the office.
Real Food Wythenshawe
Real Food Wythenshawe, who have supported Button Lane with gardening, needs your votes to win their category in this year's prestigious National Lottery Awards and the chance to go forward nationwide to the star-studded Awards ceremony to be broadcast on BBC One in September!
If you would like to support them go to the website www.lotterygoodcauses.org.uk/awards/environmental
The project, based in Wythenshawe and led by Wythenshawe Community Housing Group, is a Lottery funded community food campaign to encourage local people to eat healthily and live more sustainably with a message of 'Grow it! Cook it! Eat it!'

Little Hands Big Changes
We have enjoyed a number of Litter Picks with members of the school community.
Thanks to the parents who turned up to support the community litter pick with Wythenshawe Housing Trust staff on Monday 13th July at 1.15pm.
On 1st December, it was our 2nd Litter pick where we went outside school into the local community.
Thanks to the 20 children and adults including our Chair of Governors Mark Rainey, Sarah Klueter (from Parkway Green Housing), parents and staff. Why not join us next time?
Take a look at some of the things we've been doing in previous years:
2015-16