We are proud to have achieved the Intermediate International Schools Awards.The award rewards schools who show a commitment to embedding international awareness and understanding. Take a look at what we have been up to...
Chinese New Year
This year we have celebrated Chinese New Year in lots of different ways across the school. Classes, tasted Chinese food, used chopsticks, explored Mandarin letters and numbers, made instruments, lanterns and streamers. Some also decorated masks. Our school canteen even cooked a Chinese menu.
Sweden 21.10.19- 26.10.19
Take a look at what Mrs Hutchinson, Miss Hudson-Jones, Mrs Cooke, Mrs Bartram and Miss Thomas got up to on our second staff mobility to Sweden thanks to Erasmus+ funding.
They have been exploring what the education system in Sweden looks like in order to help Button Laneput outdoor learning at the heart of what we do. Read their blog here... Buttonlane.edublogs.org/2019/10/29
Harvest 2019
During October we have focussed on Article of the Month: Article 24-the right to good food, clean water and to see a doctor if you are ill. As part of this, we have celebrated Harvest festival by creating posters on how people can help and gave thanks during a service at St Michael's church. We have also donated to Wythenshawe Food Bank following an assembly which helped us to understand how the food bank helps families in Wythenshawe.
Black History Month
As always Key Stage Two loved the workshop with Carla Jane and Michael. We can't wait to learn more about significant people who have taught the world that "it doesn't matter about the colour of your skin-what matters is what you have deep within".
A special visitor
Our Global Council met up with Alagi after his wonderful assembly all about the Gunjur Project.
Black History Month
Year three have created some impressive artwork during their learning about Martin Luther King.
Black History Month Workshops 01.10.19
Year 4 and 5 enjoyed a fantastic workshop today where they learnt about Mahatma Ghandi.
Black History Month Whole School Assembly 01.10.19
This morning we had a visitor, Alagi, in our assembly. We enjoyed learning all about the Gunjar Project which supports development in The Gambia. We enjoyed looking at photographs from the Gambia, asking questions and learning life in another country.
Chester Zoo!
We loved our visit to Chester Zoo as part of the Sustainable Palm Oil Challenge. We took part in workshop and got to look around the zoo to see all our favourite animals. For some of us this was our very first time visiting a zoo.
Clean Air Day
This year the whole school committed themselves to taking part in clean air day. The focus of this was to learn more about air pollution and what we can do to reduce it. We arranged a walking bus to encourage pupils and their families to walk to school. We set up four meeting points local to school, where staff met pupils and parents so that we could all work to school together. It was a great success and a positive start to the school day. During the school day, we found out more about air pollution and made pledges.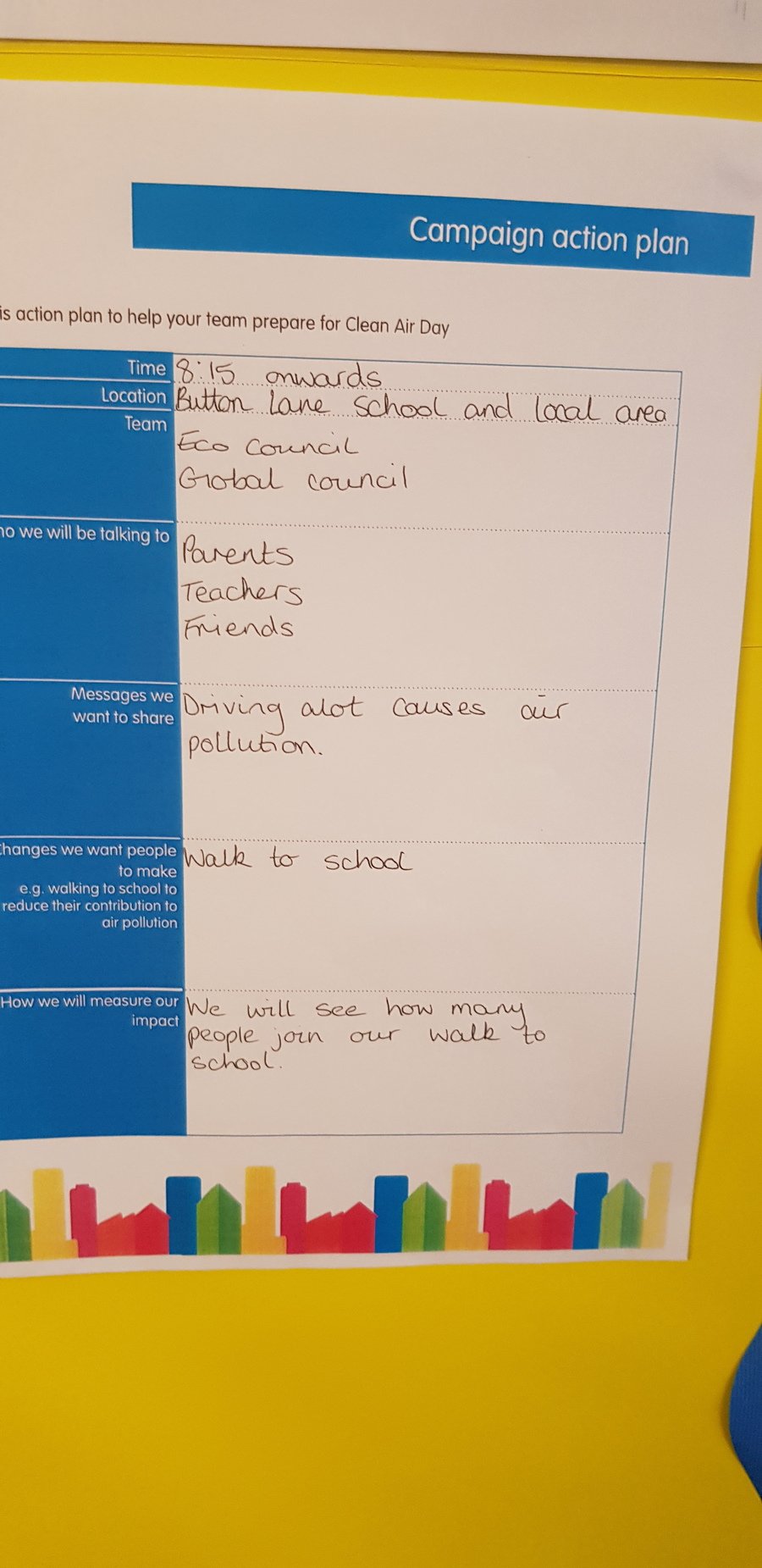 Clean Air Day
One child from each year group (Year 2- Year 6) completed an evaluation of clean air day. We love hearing our pupil's feedback.
Our Link School
We worked with our link school on Clean Air day. The year 2 children were interested to find out that most of their Spanish friends already walk to school everyday. Our link school sent us their pledges and photos of them planting a tree to promote clean air.
The Sustainable Palm Oil Challenge with Chester Zoo
Throughout the Summer Term all year groups from Year 1 to Year 6 are participating in the Sustainable Palm Oil Challenge. This involves each class taking part in 4 workshops over a number of weeks. The workshops are led by a Chester Zoo Safari ranger and involve practical activities which teach children about sustainability, palm oil and deforestation.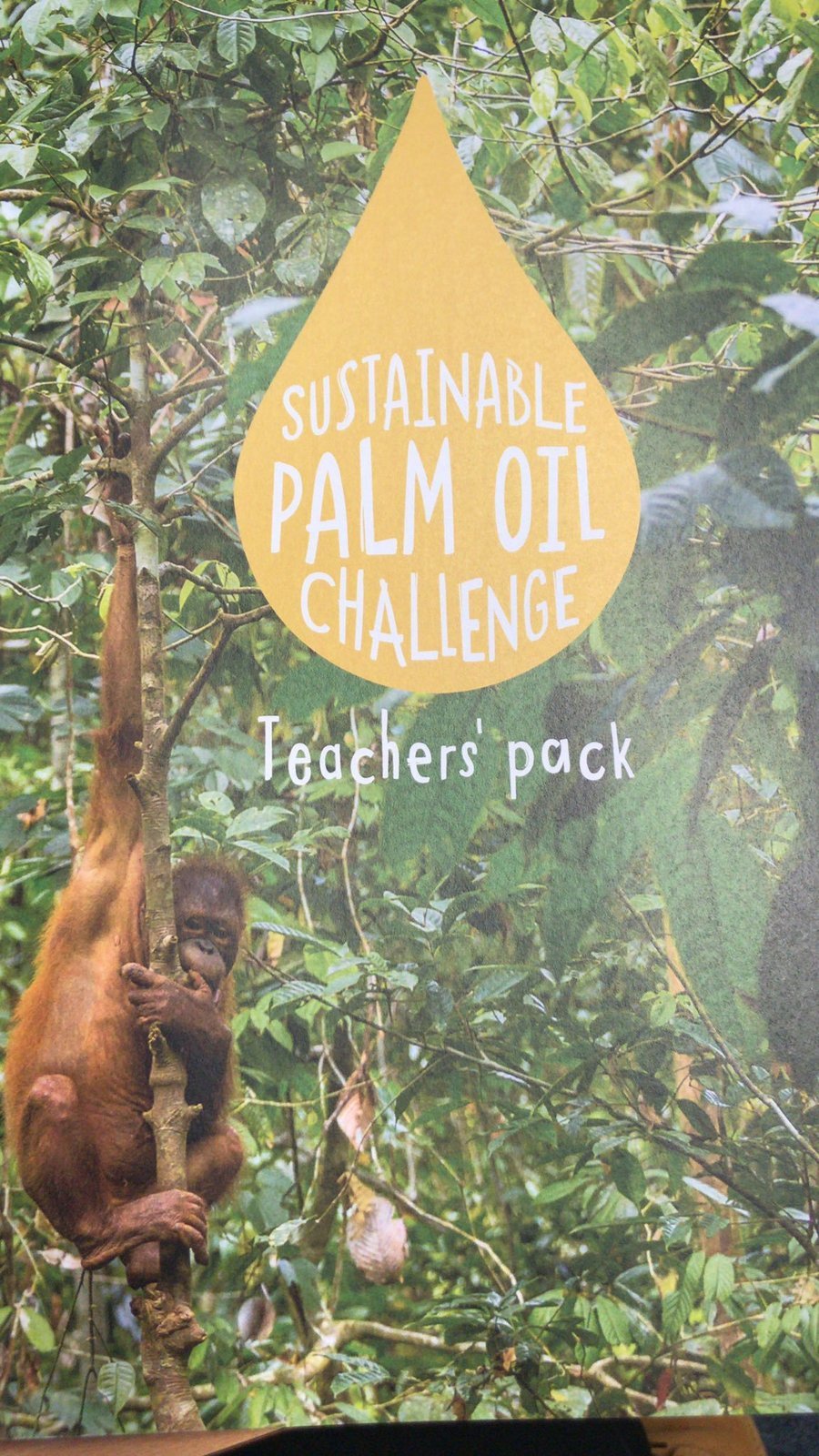 Sustainability in school
We have been learning about renewable and non renewable resources and looked at the Reduce, Reuse, Recycle model. Following this we came up with some of ideas about how we can make our school/classroom more sustainable.
We got a response!
After sending letters to Cadbury about Sustainable Palm Oil, Year 2 got a reply from Mondelez International.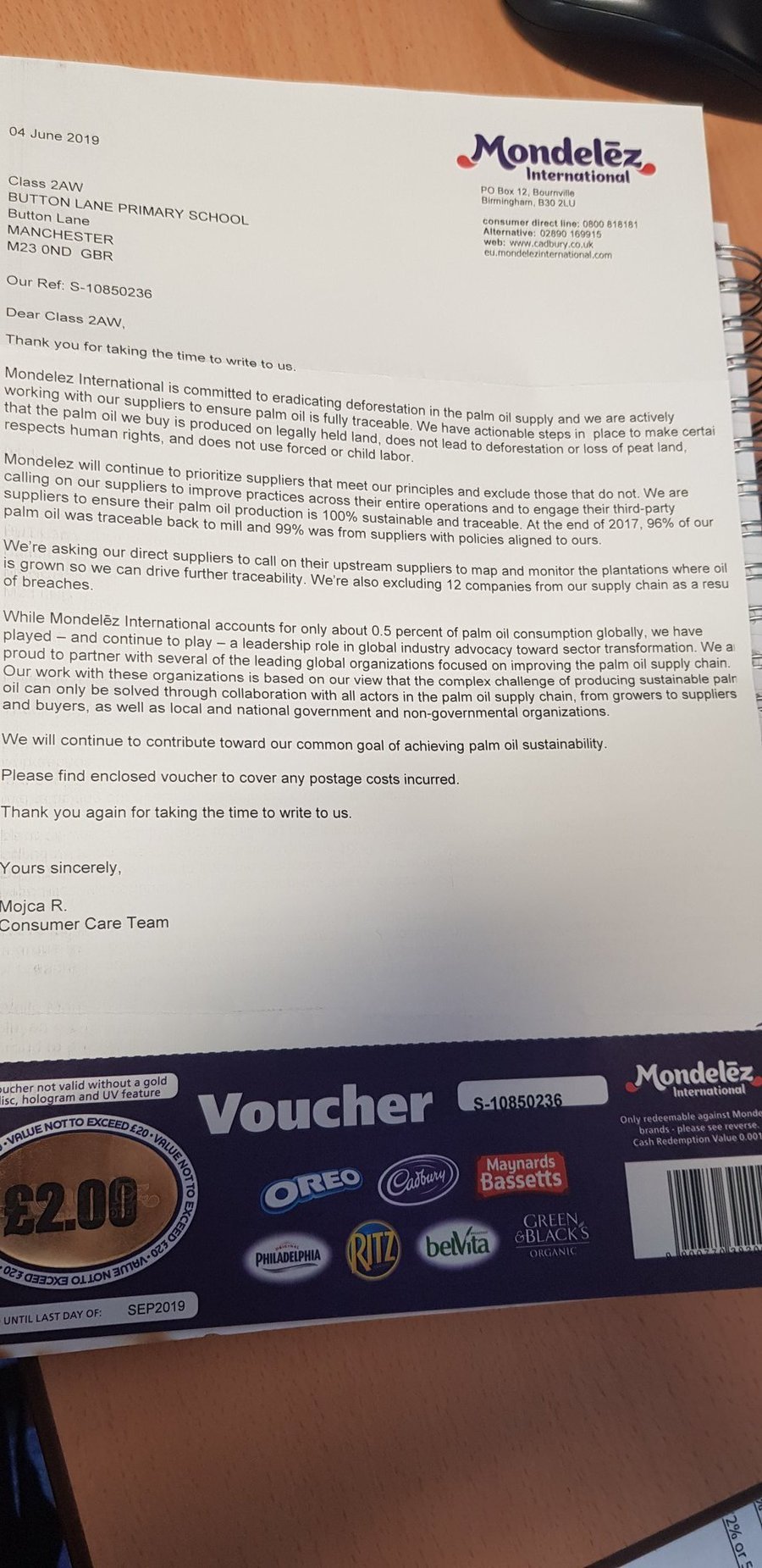 We wrote to Cadbury!
After learning that not all of Cadbury's chocolate contains Sustainable Palm Oil, our Year 2 children decided to write to them to share their disappointment.
The Sustainable Palm Oil Challenge with Chester Zoo
Take a look of some of the things we got up to during the Chester Zoo workshops. For more, head to our twitter page!
Our Link School
After we sent pictures of our egg and cress sandwiches to our link school, they replied with some work they had produced about their favourite sandwiches. Year 2 had a go at pronouncing the Spanish words. We replied with videos and pictures of us saying the names of food in Spanish and with pictures of our favourite sandwiches. We have also created a display of the work the schools have been doing together.
Our Link School
Year 2 have teamed up with a link school in Spain. Here they are looking at some work their Spanish friends sent to them via email. Year 2 replied with photographs of the cress they had grown and the egg and cress sandwiches they made.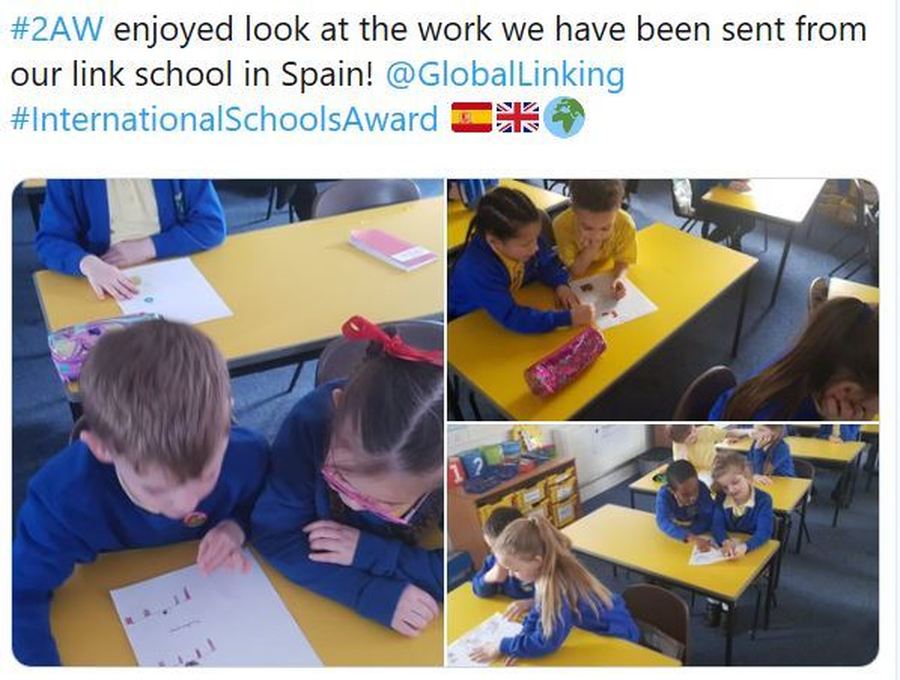 Easter Service
The whole school went to our local church to carry out an Easter Service. This involved the school choir, songs from each year group, readings and prayers from KS2 children. It was a lovely event and we had lots of parents come along too.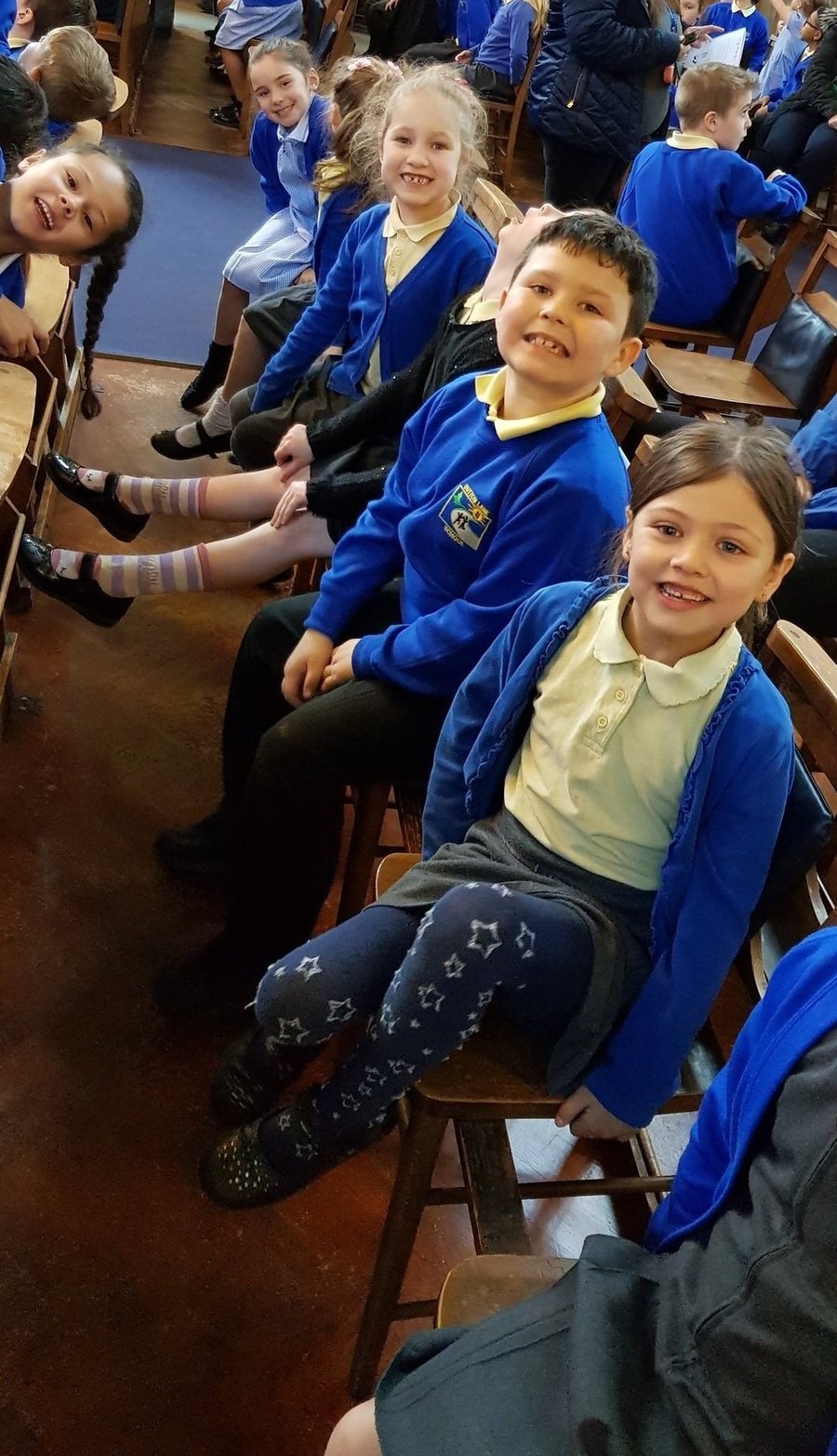 St George's Day!
We had a whole school assembly where we heard the story of St George. Each class then explored this further.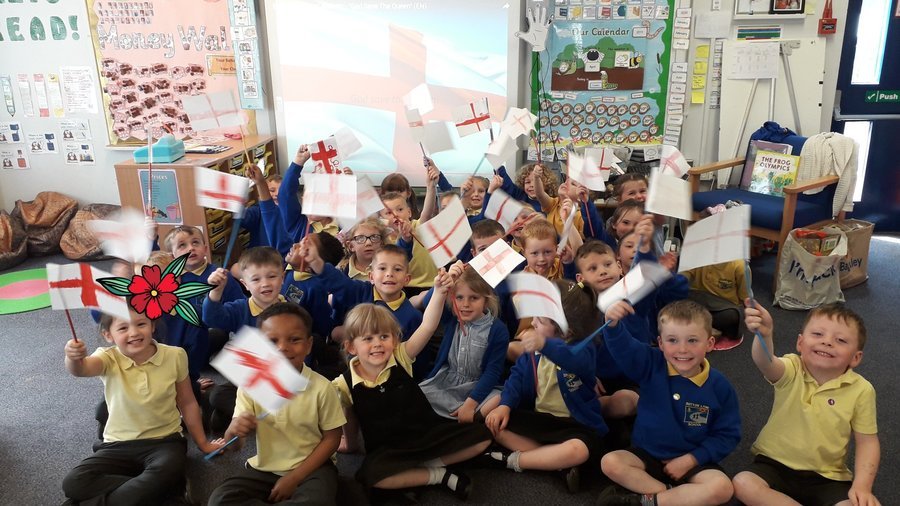 Sustainable Development Goals
We have been learning more and more about the Sustainable Development Goals. As part of a WOW time group some of the KS1 children, created posters to share the goals with the rest of the school. They then stuck the posters around school. The children also explored goal 13 Climate action buy investigating rising sea levels. It was very interesting!
Litter!
We are always working hard to reduce the amount of waste we produce at school. Recently, we have been trying hard to reduce the amount of litter in our school grounds and local area. Our Eco team held a Litter poster competition and the winning posters have been displayed around school. The whole school also took part in the Great British Spring Clean. Each class went on a litter pick around the school grounds and local area.
Chinese New Year
We have really engaged with Chinese New Year to help us gain a better understanding of the events and traditions in other cultures. We have taken part in a wide range of activities including; practicing using the Chinese language for speaking and writing, tasting traditional Chinese food, dancing, making musical instruments, masks, dragons and streamers. We even had a dragon parade through the school!
Black History Month
Key Stage Two have been busy taking part in a range of activities to support their learning and understanding of Black History and the importance of Black History Month. They explored key people for example, Mary Seacole, Martin Luther King, Barack Obama and Mo Farah. A highlight of this activity was a singing workshop for all Key Stage Two pupils led by vocalists and musicians. They used singing to teach the children a timeline of key events in Black History. Check our twitter to page to view the video.
Mobility 1 Sweden
During October half term, 5 members of staff (Miss Whittaker, Miss Bradbury, Mr Walker, Miss Gough and Miss Potter) went to Sweden to take part in an outdoor learning course. This was funded using a grant through Erasmus+
The aim of the trip was to develop our own outdoor learning provision by getting an incite into how it forms a vital and successful part of the curriculum in other countries.
Since they have returned to school we have engaged in another successful Outdoor Classroom Day and are continuing to develop outdoor learning at Button Lane.
Take a look at the blog the staff wrote while they were in Sweden: http://buttonlane.edublogs.org/