Rights Respecting Schools Award
Our Article of the month is: Article 14: Your right to follow your own religion.
What are children's rights?
Below you will find a summary of the UNCRC. These rights are universal and unconditional.
Rights Committed!
After all of our hard work to introduce children's rights to our school community, we have been awarded the Rights Respecting Schools Bronze Award.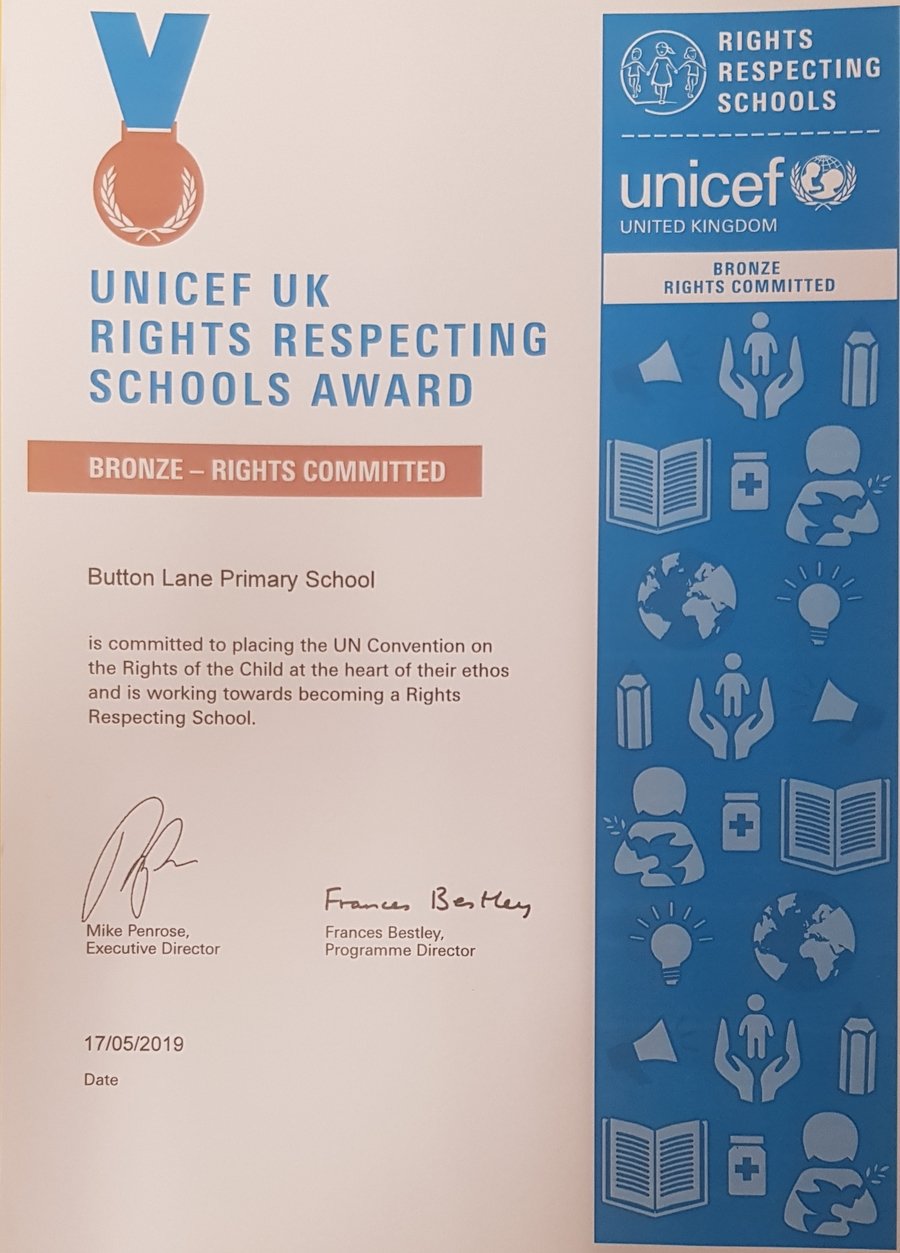 Family Discussion Homework
To promote discussion and understanding of children's rights, each child will receive a family learning homework linked with the article of the month. We have begun this with January's article-Article 14: The right to follow your own religion.
World Religion Day
To help explore our article of the month, Article 14: Your right to follow your own religion we have celebrated world religion day. We started off with a Whole School assembly where we explored the 6 Key faiths. Some of our parents also joined us for this. In class, we explored this further and each child has created a handprint about themselves which we will use to create a display that celebrates our similarities and differences.
Discussing Children's rights...
This month Year 2 have been discussing and exploring some of the articles with their parents during morning work.
Black History Month
Throughout the October, KS1 and KS2 have been exploring Black History through a range of curriculum areas including, Art, Maths and English. Take a look at some of the work below.
Harvest 2019
During October we have focussed on Article of the Month: Article 24-the right to good food, clean water and to see a doctor if you are ill. As part of this, we have celebrated Harvest festival by creating posters on how people can help and gave thanks during a service at St Michael's church. We have also donated to Wythenshawe Food Bank following an assembly which helped us to understand how the food bank helps families in Wythenshawe.
A special visitor
Our Global Council met up with Alagi after his wonderful assembly all about the Gunjur Project.
Steering Group (Global Council) meeting 30.09.19
Take a look at our agenda from today's meeting. The children were keen to make notes and get back to class to tell everybody about our new article of the month. We also gave out some roles for ensuring we spread the word about our article of the month through twitter, classrooms and the newsletter. The children design a poster so that each classroom can display the article of the month alongside class charters.
Thankyou!
A lovely thankyou certificate for our amazing donation of 137 pairs of shoes to Clarks' shoe share.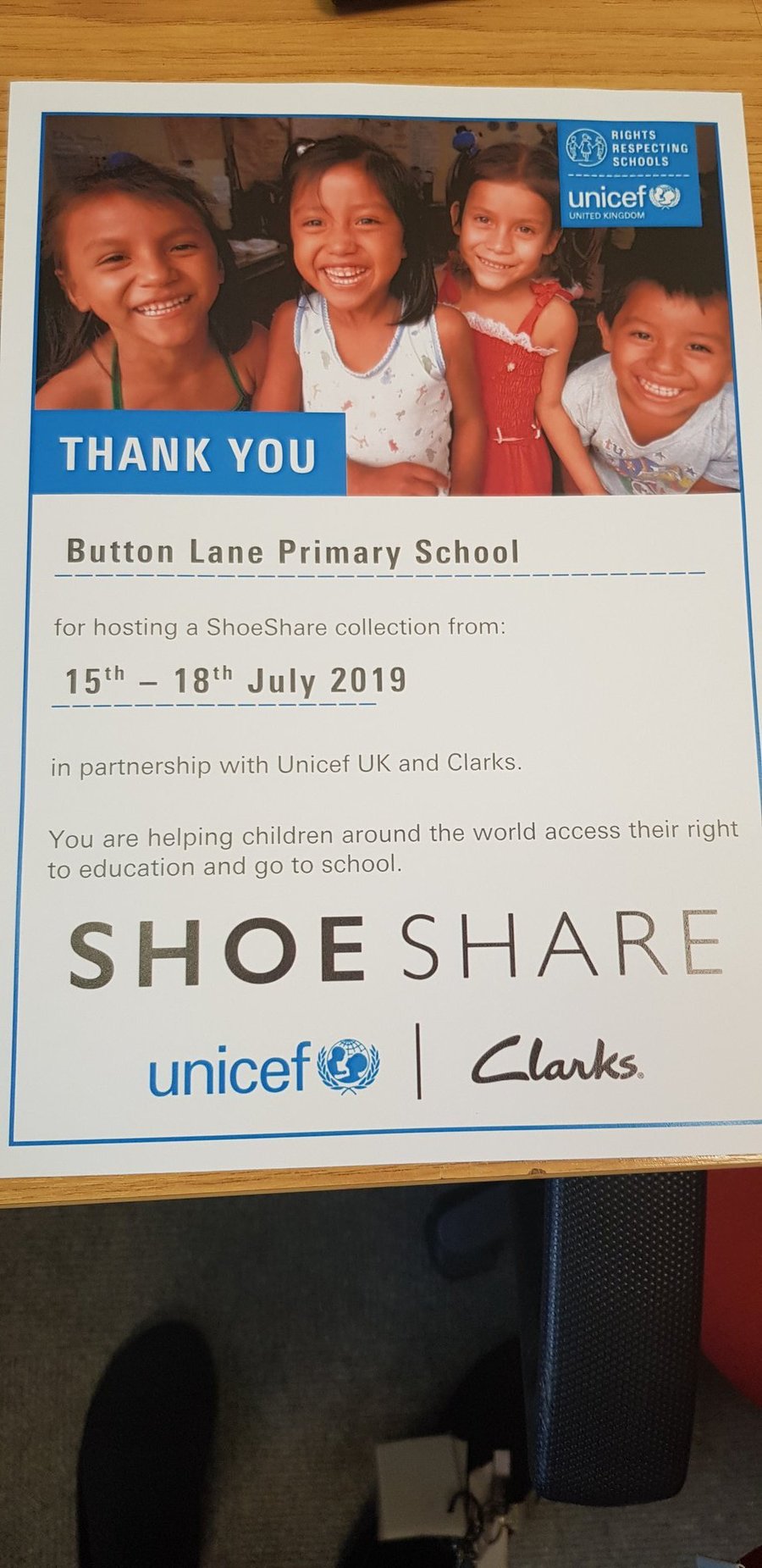 Soccer Aid Playground Challenge
On Friday 14th June the whole school from Nursery to Year 6 took part in the playground challenge. We are raising money for Unicef to help support children's right to play. Each class took part in a football obstacle course. Keep an eye out to see the final amount we manage to raise.
A big Well Done!
A fantastic well done letter and gift of footballs from Soccer Aid for all the money we raised for Unicef as part of our Soccer Aid Playground Challenge.
Soccer Aid Playground Challenge
We are pleased to announce the final total all the money raised from our playground challenge is £1194.61. A big thankyou to everybody who took part and sponsored the children. The UK government will also match each pound donated so this is a huge achievement.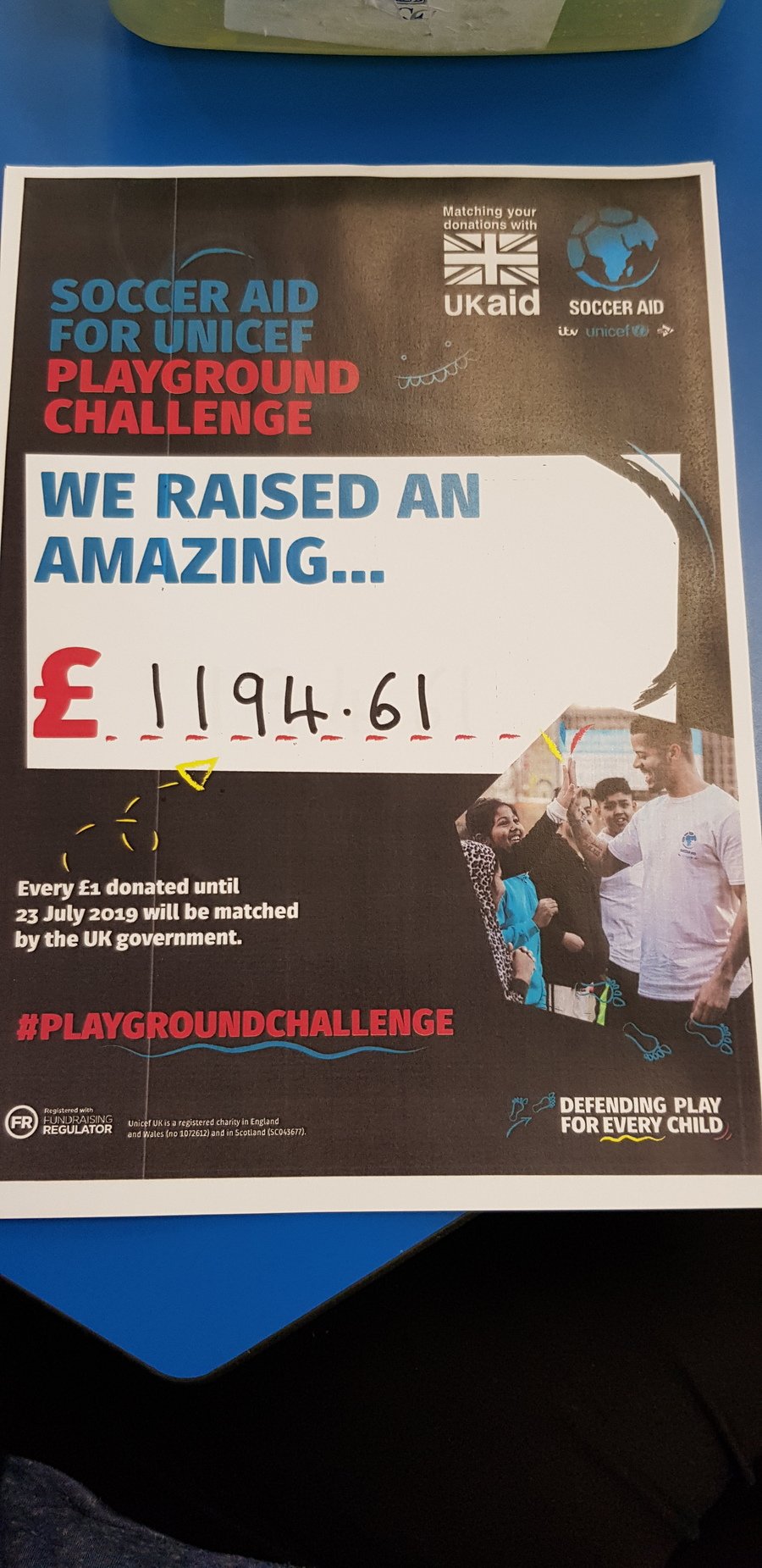 Autism Awareness Week
As part of Autism Awareness week we considered the importance of Article 23-The right to special care and support and Article 28 The right to learn and go to school.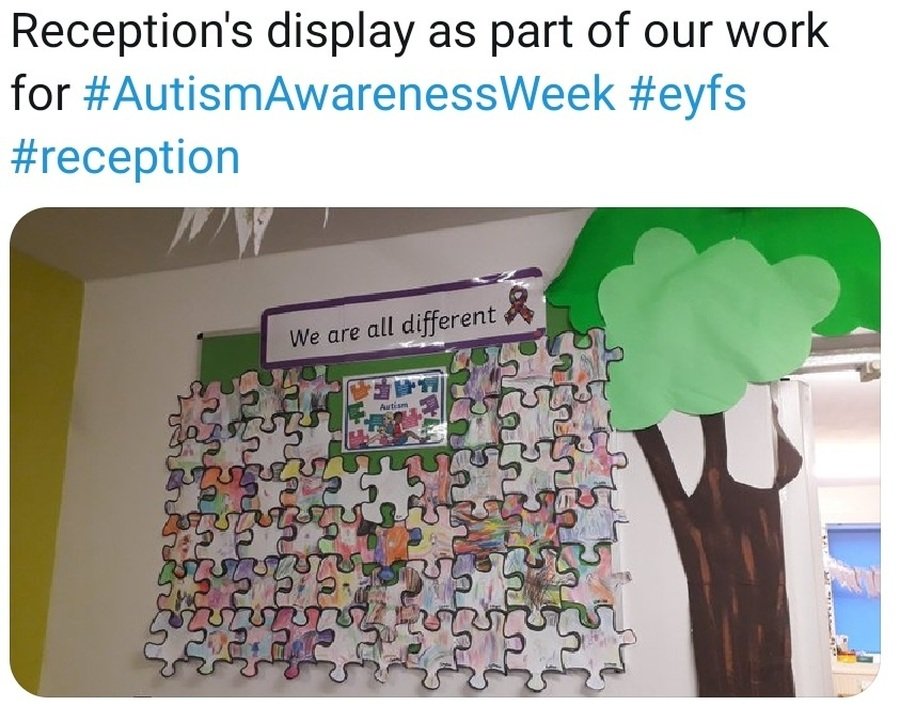 Class Charters
After being introduced to children's rights, each class worked together to chose the Articles they wanted to focus on and turned them into their class charter.